News Flash!
Taiwanese, Japanese and Chinese Protocols for direct exports from Australia to be in place early 2013.
As the chair of the Export and Trade Facilitation Group of the AAA, Steve has been working hard over the last 6mths establishing these protocols. It will benefit all alpaca breeders wishing to market themselves overseas.
For further information please contact Steve on 08 95822532 or 0414 719 566.
IT'S BUSINESS AS USUAL
Wildflower Alpacas are moving. Sue and I are moving back to Western Australia to start up another Quarantine Facility.
The East Coast facility will still be operating and managed by us, it will be located at Surilana Alpacas in the beautiful Strathbogie Ranges approx. 2hrs north of Melbourne. Nothing from the outside will change, the standard of service you have come to expect will always be there and we will still be handling all enquiries, ensuring your alpacas are well looked after.
If you're looking at purchasing alpacas from Australia, you can now source them from WA as we have direct flights to Asia and New Zealand from Perth.
If you have any enquiries please do not hesitate to drop us an email or call me on my mobile 0414 719 566.
Wildflower Quarantine and Export
Wildflower Quarantine Station now Up and Running for all your Pre-Export Quarantine requirements.
Welcome to Wildflower Alpacas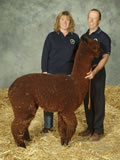 Wildflower Alpacas is owned and operated by Sue and Steve Ridout, both of whom have an extensive knowledge of the Alpaca Industry. Collectively, we have 20 years of experience breeding Huacaya Alpacas, with great success in both Victoria and Western Australia.
On our farm, we take pride in maintaining the highest standards of cleanliness in our facilities, and we keep organised, up-to-date health and breeding records. We are actively participating in the Q Alpaca program, with Q and non-assessed paddocks available.
For those who are considering investing in Alpacas, getting to know the breeder and their animals is a must. We welcome you to visit our farm online and in person, become acquainted with our friendly Cria and even take an Alpaca for a walk.
Steve has been active in both states through Show committees in WA, and as past President of the Western Region of Vic, including board member of the AA Co-operative.
Please take your time wandering through our site and feel free to contact us at any time for information on any of the areas that are of interest to you.