News Flash!
MRI / Q Fever Update May 2018
Hi Everyone - Please read the latest update from MPI regarding Q Fever validation. I am still waiting on DAWR and EMAI to respond to my questions relating to the possibility of not obtaining the required + / - results through the Pilot Program and what rammifications this could have.
Next Export to Europe!!!
The next Export Quarantine from New Zealand to Europe will commence on the 7th of June with an intended export date of 18 July.
Please could you contact us on either s.ridout@bigpond.com or mobile 61 414 719 566 to reserve your space.
All Alpacas are to be at the Isolation facility by the 4th of June ready for inspection and drenching prior to entry.
Australia to Europe update —
March 2018
Please read this PDF document for a new update on exports from Australia to Europe.
NZ to Europe access opening soon!
Update 14th of February, 2018. We have in conjunction with MPI NZ negotiated the reinstatement of the OMAR for Europe!
After lengthy discussions and a recent conference call MPI have agreed to reinstate the OMAR and certify to the Blue Tongue Vaccination clause that caused the closure. MPI will be opening the borders again by this weekend (16th Feb 2018)
We will be advising all parties concerned that have Alpacas waiting to go in NZ. Any questions relating to either Europe or New Zealand protocols please email us directly at s.ridout@bigpond.com
We hope to have further news relating to the AU to NZ protocol closure in the coming weeks for those still looking at purchasing from Australia.
A lot of hard work over the last 12 months has enabled us to be in this position , thank you to those who have helped along the way!
Best regards
Sue and Steve Ridout
New Zealand Import Health Standards to be revoked:
Update 11th of January, 2018. The Ministry for Primary Industry NZ will be revoking their Importing Health Standards (IHS) for Alpaca shortly, this will affect all Alpaca Imports into New Zealand.
The issue relates to the required Q Fever testing methodology and the subsequent irregular results being returned. The decision is the result of the only 2 available tests being reviewed and assessed to be of unknown sensitivity in alpacas (the ELISA) and unacceptably low sensitivity (the CFT). An alternative, acceptable test has not yet been found.
Read more on our NZ Health Import Standard Update page
EU OMAR Review Update
On Thursday the 17th of August a delegation consisting of Greg Charteris (President AANZ, Kit Johnson (Licensed Alpaca Exporter) and Steve Ridout (Director International Alpaca Exports) met with senior officials of the NZ Ministry for Primary Industries (MPI) in Wellington to discuss the revoking of the OMAR for alpaca exports into the European Union (EU).
At the meeting we requested MPI to provide an update as to the current situation and what MPI's plan was to ensure the review of the OMAR is kept at the forefront of the EU Commission. Action items that we felt would assist MPI/Market Access Team in its endeavours to resolve the current situation were tabled by Steve. Whilst we did discuss the previous issues we have had with MPI it was more pertinent to focus on a way forward whilst stating our discord with the ministry.
Read more on our OMAR Review update page
EU/UK Exports from NZ: Important Update!
Please read the important update regarding alpaca exports from New Zealand to the United Kingdom and European Union. It is available as Adobe PDF.
China

The Chinese Protocol is currently on a shipment by shipment basis but we hope to have the accepted protocol signed off this year. Wildflower Exports flew 1541 live alpaca in 3 shipments to China in late 2014 & 2015. At this stage we are looking for interested breeders that are willing to supply China in the near future. You can register your interest via email to s.ridout@bigpond.com
Korea
It was reported in the media earlier this year that the protocol for Alpaca to Korea was in place, in fact that is not the case however we are working behind the scenes to ratify the import requirements with DAFF. We will announce when this has taken place and the market is officially open for trade.
As the chair of the Export and Trade Facilitation Group of the AAA, Steve has been working hard over the last 6mths establishing these protocols. It will benefit all alpaca breeders wishing to market themselves overseas.
For further information please contact Steve on 07 4098 8451 or 0414 719 566.
Wildflower Quarantine and Export
Wildflower Quarantine Station now Up and Running for all your Pre-Export Quarantine requirements.
Welcome to Wildflower Alpacas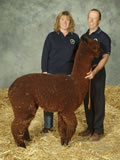 Wildflower Alpacas is owned and operated by Sue and Steve Ridout, both of whom have an extensive knowledge of the Alpaca Industry. Collectively, we have 20 years of experience breeding Huacaya Alpacas, with great success in both Victoria and Western Australia.
On our farm, we take pride in maintaining the highest standards of cleanliness in our facilities, and we keep organised, up-to-date health and breeding records. We are actively participating in the Q Alpaca program, with Q and non-assessed paddocks available.
For those who are considering investing in Alpacas, getting to know the breeder and their animals is a must. We welcome you to visit our farm online and in person, become acquainted with our friendly Cria and even take an Alpaca for a walk.
Steve has been active in both states through Show committees in WA, and as past President of the Western Region of Vic, including board member of the AA Co-operative.
Please take your time wandering through our site and feel free to contact us at any time for information on any of the areas that are of interest to you.